CYOO #34: Tolerating boredom
If you're reading this please make plans to vote!
E and I spent the past week in Hudson, arriving to peak foliage and warm weather. By the time we left, tons of leaves had fallen from the trees and the temperatures were in the 40s. The below photos were taken from the deck of our Airbnb on our first and last day—how quickly the leaves change! What a beautiful indicator of the passage of time.
Having only brought one book and my work computer for entertainment, I quickly ran out of activities to distract myself with during the days we worked from the house. My attention prefers to flit from one task to another—I'll start watching a video, then remember to defrost something for dinner later, then I'll look out the window and wonder if I should go for a walk before it gets dark.
Even during the before times when there was an infinite amount of activities to do, both inside and outside the home, I was easily bored. The all-encompassing feeling took over and I would lie on the couch, unwilling to do anything except the lowest level of activity—scrolling on my phone. Being in a different environment didn't lower the frequency or intensity of boredom, though the fresh air and beautiful landscape certainly helped me be more present.
Often we find ourselves most bored when we're alone. Loneliness and boredom and isolation swirl in tandem, a heady mix of modern afflictions. Yet I greatly enjoy and relish in the comfort and freedom of being alone. How can I claim to love solitude while also frantically trying to evade boredom, its companion?
Learning to tolerate and accept boredom is a lifelong challenge. I don't think I will ever be able to enjoy boredom, but I can remember that through boredom I can uncover a previously avoided thought or feeling, generate new ideas, and discover new curiosities. Often the deeper I allow myself to fall into boredom, the more refreshed I feel on the other side.
Further reads on boredom:
"What Does Boredom Do to Us—and for Us?", The New Yorker
"How to wait well", Psyche
"Boredom is not a problem to be solved. It's the last privilege of a free mind", The Guardian
---
I've been consuming…
Mother, directed by Bong Joon Ho 🎥. A year ago I learned about some of Bong Joon Ho's other films after watching Parasite. Last week I got around to watching Mother, his 2009 film with renowned actress Kim Hye Ja and ever elusive (and very handsome) actor Won Bin. The film is full of twists and turns, as expected from Bong, but I was touched most by Kim Hye Ja's deep love for her son and the depths a mother will go through to protect their children.
A Place for Us by Fatima Farheen Mirza 📚. I've been savoring this 2018 novel about an Indian-American Muslim family in California. This family saga describes the complexities of sibling relationships so beautifully (the covering up of lies and the subsequent betrayal!) and weaves in large questions around faith and belonging. Highly recommend for lovers of Pachinko, The Vanishing Half, or Saints for All Occasions.
So Expensive, a Business Insider series ▶️. I love this video series that deep dives into the craft and process behind quality items and explains why they are so expensive (I'll give you a hint: it's not because of high wages). From whale poop to Persian rugs to Hermes bags, there's a wide range of items covered—perfect for a Youtube binge. My latest fascination is with Kolinsky sable watercolor brushes (made from Siberian weasel hair), which can cost over $300. There are only nine women making these brushes, each with over 27(!!) years of experience.
I've been making…
Pressed leaves 🍁. During our stay upstate, I collected and pressed some newly fallen leaves, an activity I haven't done since I was a child. I'm not sure where they'll go (maybe I'll frame them?) but for now, they live on my windowsill to remind me of the season.
Apartment updates 🏠. In the last newsletter I shared that E and I were repainting the base of our dining table. We finished and are pretty pleased with the result! I sent these before and after photos to my parents and it took several guesses for them to spot the difference. All in all it's a minor visual change but one that I notice and appreciate every day when I sit down to eat.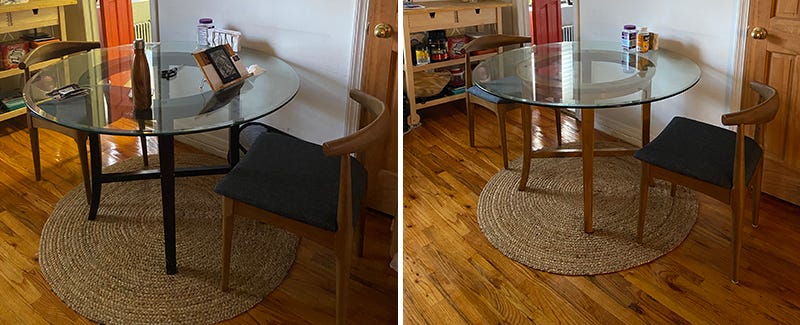 Soybean paste cabbage soup 🍲. I grew up eating Korean soups for nearly every meal, always accompanied with a bowl of rice and a spread of banchan. These days I forgo the banchan spread for a pack of gim (roasted seaweed) and double the soup portion. This baechu dwenjang soup is so simple to make and hits the spot! The lingering smell of soybean paste is not for everyone (E can't stand it) but I find it earthy and comforting.
---
What's been occupying your mind? Have you voted yet? (and how were the lines? My poll site was an hour wait) What fall produce are you really into? Do you have any hope for the Supreme Court's future? Let me know—I'd love to hear from you 🍊