Drawing landscapes and figures: sketchbook snippets from LA
Hello friends and new subscribers! Today is my last full day in Los Angeles, wrapping up a five week long stay. I have experienced the full gamut of emotions while here, from lost and lethargic to hopeful and inspired.
Being surrounded by nature and taking a timeout from the usual hubbub of NYC has helped me realize how much I value practices that anchor my spirituality. Lately this has meant a daily yoga practice and reorienting my art practice to observe, play, and heal, rather than to earn or strive. Here I realized how much I was craving to be healed. How much the pursuit of a specific career identity (an illustrator! a writer! a full time artist!) was masking the multitudes of self lying underneath. How much my chasing of goals and checklists and habits was distracting me rather than freeing me.
I am so grateful for my time in LA. Below are photo snippets, fond memories, and many drawings made while I have been here. Normally I would wait to get home and scan my sketchbook but I want to share more often in my newsletter and feel less perfectionistic about it. Thank you for bearing with my iPhone snaps!
Hi there! Thank you for reading. Feel free to share this post with someone who might benefit, and subscribe to get new updates.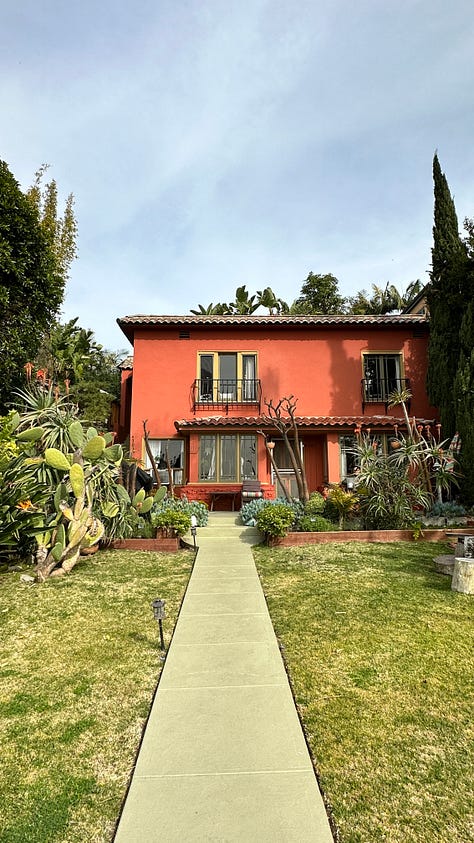 Eric found this lovely Airbnb in Los Feliz where we stayed for a month. It had such a romantic view of downtown LA and a superbly maintained garden with so much plant diversity! I enjoyed looking at my favorite bird of paradise flowers. The lawn had a trampoline that I already wish we jumped on more—immediate endorphin boost.
I didn't spend too much time outside because I'm an indoor cat, but I did enjoy a few painting sessions. Painting under the strong California sun is fantastic because paper dries so quickly! I really love the color palette of these plein airs. The vibrancy and playfulness feel true to the nature and people here, and it reminds me that's where I come from too.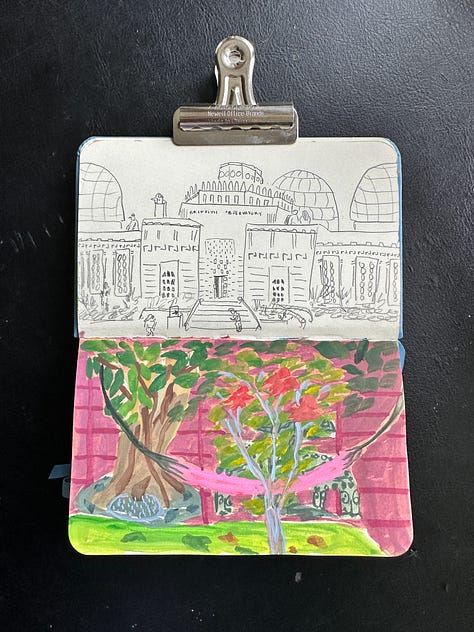 I finished my previous square travel sketchbook that I used in Montreal (link below), so I got to start a new one which I already love much more. The portrait format is much more approachable than a square. I'm excited to draw more people without cutting off their feet because I ran out of room on the page, heh.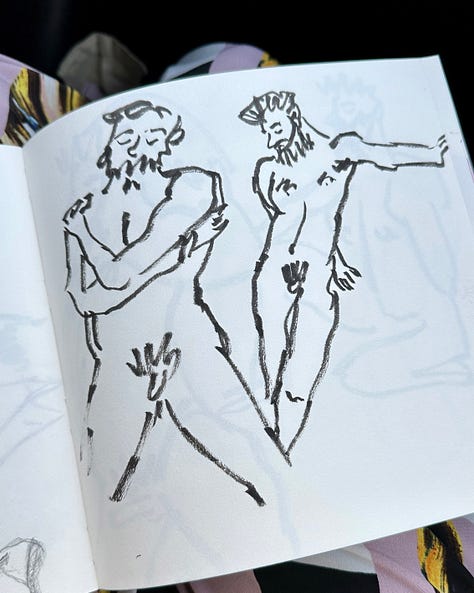 I went to two figure drawing classes at Heavy Manners Library, an artists' library and event space in Echo Park. First was a nude figure drawing with Kris Chau, who emphasized drawing being synonymous with observation. She later told me this:
The pressure to make "presentable" drawings doesn't make you a deeper drawer, and I think depth is what brings actual enjoyment.
How perfectly put is that? Thank you, Kris.
I really enjoyed practicing painting during the long poses (10+ min). I used to dread long poses as I'm quite impatient and draw in a quicker illustrative style, but I realized it is the perfect amount of time to properly add shadow and light, which I most enjoy rendering with color! Sometimes I feel like I'm "doing class wrong" because other people are working to render detailed, photorealistic figures, but life is too short to force myself to draw realistically when I have no desire.
A few weeks later I went to my first clothed figure drawing with Hellen Jo. Her class was amazing! I loved drawing a clothed model since people are usually clothed, and I could practice capturing the folds of a t-shirt or jeans. We drew fashion model Ashley Kim (who I also saw on Big Bud Press billboards around LA!) Her poses were relaxed and chill compared to the dynamic poses usually found in figure drawing.
Hellen was a delight. She ran class with a bootcamp mentality, timing us through many rounds of poses of varying lengths from 15 seconds to 5 minutes. We did an excellent memory exercise, where we looked at our model Ashley for 30 seconds, drew her for two minutes, then had to draw her again from memory on another page for two minutes. My ability to draw from memory is horrendous, which this exercise really brought to light! We also did the reverse exercise, drawing Ashley from memory first then drawing her from observation. My poses from memory were all stiff, missing the soft gestural lines that come from observing lots of human bodies.
I've gone to enough figure drawing classes to start feeling comfortable, which means my anxiety can dissipate and I can practice deeply observing. If you've never been, I highly encourage you to try too! Love Life Drawing is a great online resource Hellen recommended.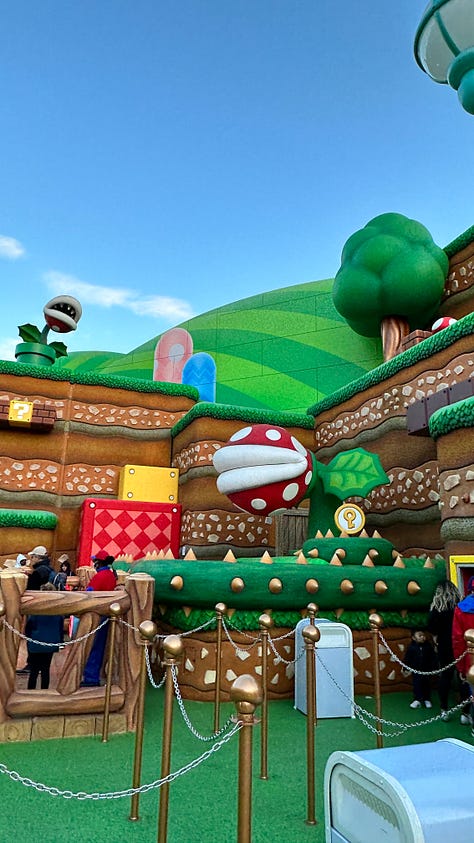 Other highlights from our LA trip include going on hikes with such bright greenery and blue skies after loads of rain, marveling at colorful produce at Hollywood Farmer's Market, visiting the new Nintendo World at Universal, and enjoying time with my parents and seeing them marvel at previously unexplored places around the city.
I'll miss California dearly but I know I will be back soon! I'm ready to bring home a more grounded, balanced energy and I'm excited to see how that may transform me and my practice. Thank you for reading and being here, and I'll see you in two weeks!